Characteristics
1 Reassuring Homeroom Teacher System
With Homeroom Teacher System, each student will be watched over, including learning, careers, and supporting his/her mental health. If you have any trouble with your school life, you can always talk to your homeroom teacher.
2 Many variations of special classes
You will learn Japanese traffic rules while watching a video clip and using a bicycle simulator including a traffic safety class by Nishinomiya police so that you can live a study abroad life without an accident. We have a diverse lineup of special classes, which are the fire drill, the tea ceremony, the culinary exchange party, the lectures and events by the guest lecturer, the social field trips, and so on.
3 Extensive Support System
We have bilinguals' staff who speak English, Chinese, Vietnamese, or Bengali. Our staff will accompany the students who are not familiar with Japanese language when they register as a resident, do the procedure for opening a bank account, and get sick. Please contact office staff when you are looking for a new apartment or if you have trouble in finding a part-time job.
4 Safe Dormitory
The student's dormitory of Kobe International Language School is located in a residential area with a good living environment and it takes 20 minutes by bicycle from the school. All the rooms are bright and well-equipped as well as the place is convenient for shopping or part-time jobs.
5 Extensive Career Support
Individual career consultation by your homeroom teacher, to participate in fairs for a higher education or a job, the school briefing session, enhancement of designated school recommendations, special lectures for a higher education, company briefing sessions for job seekers, the company tour, etc. These will expand your career path.
Teaching Staff
Our professional and experienced teachers are passionately, politely, and sometimes strictly directed toward each student's goal. We have full-time and part-time Japanese teachers, and all of them have acquired the official Japanese teaching license.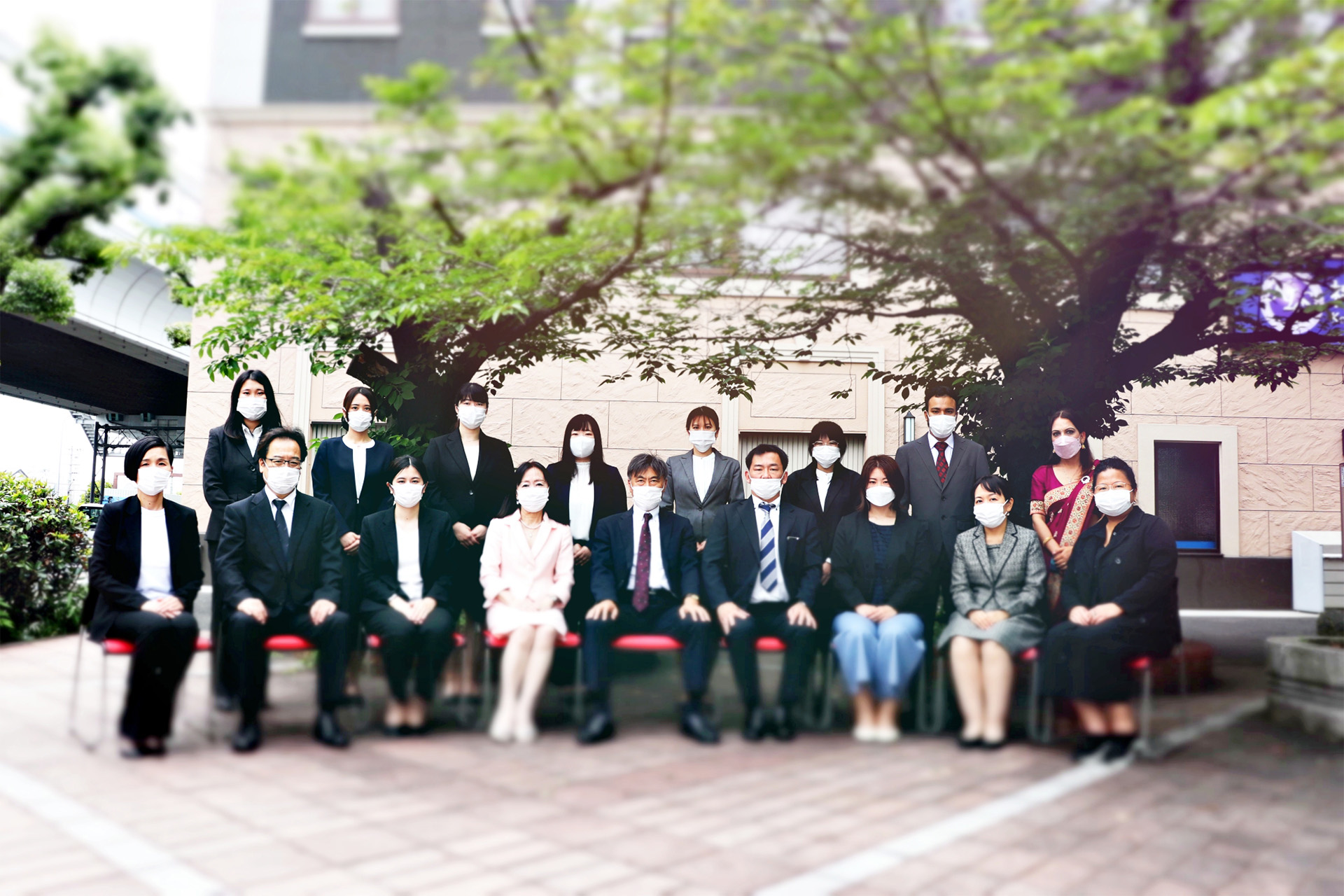 Teachers' Voice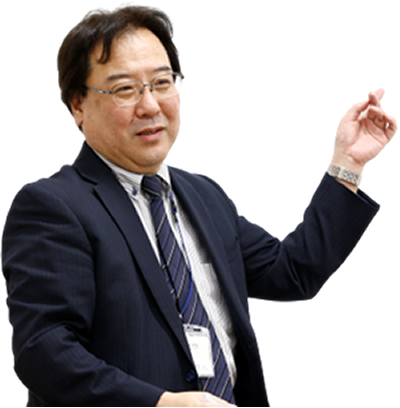 Teacher
Broaden your horizon through normal conversation!At this school, students and teachers talk a lot. If you can speak Japanese, you can ask questions to various people in Japan. If you can ask them, they will tell you a lot of things.
If you can have a conversation in Japanese, you can solve what you can't solve by yourself or any kind of problem. Furthermore, you can learn about complicated and unknown Japanese culture and customs. Studying in Japan is not only an opportunity to improve your Japanese, but also an opportunity to discover Japan personally. Your horizons will be expanded through conversation and you will get to know Japan. Let us help you to brighten up your future.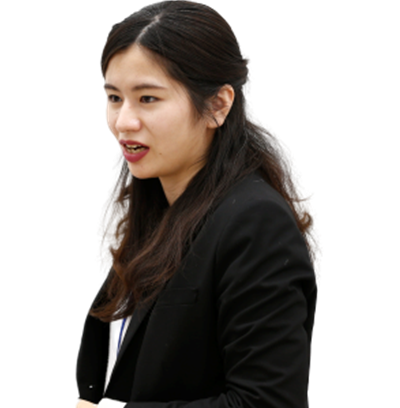 Teacher
I support students who will do their best overseas!When I was a university student, I have had the experience to teach Japanese for seven months in Vietnam. At that time, I knew the loneliness of living abroad separated from friends and family. Living in a country with a different language and culture was harder than I ever expected.
International students in Japan are striving for their future by overcoming that loneliness and pain. I never forget respect for my students who are struggling with their living overseas and I will assist them in making their dream come true. I think studying abroad is a big decision in life. Let's work together for spending wonderful time in Japan.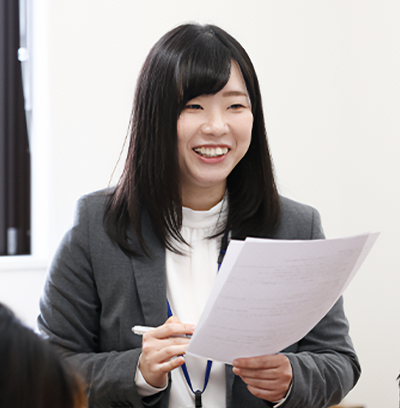 Teacher
Let's make progress together!Of course, I put effort into letting our students be success in exam, in the meantime, I also would like to focus on acquire essential manner and regular conversations that need to get used in Japanese life. Furthermore, not only as a teacher but also as a person, I'm aware of a sense of distance to rely on me. My joys know no bounds when I found my students' Japanese are better than when they entered. Students whom had a variety of experiences over past two years become elegant and shiny.
I want you to go through your life where you can say confidently and with no regret, "I am glad I studied abroad in Japan". Let's make progress together by involving with people from different countries and experiencing what you cannot do in your home country.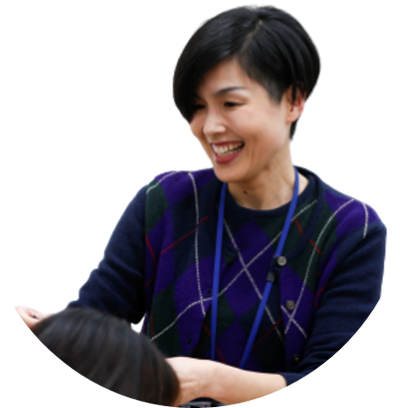 Teacher
I always stand by you.When my student practiced interviewing for university entrance examination, he started crying because he was nervous and under pressure. I suspended his interview practice and talked with him over the days. He was so fascinating but didn't realize it by himself. After that, he practiced how to clearly convey his thoughts toward the interviewer in Japanese over and over again. And at the end, he was better than anyone, then took the entrance examination. On the interview, the professor said, "Your stories were interesting. Let's meet again here next spring." My student smiled happily when he told me that and I can't forget his smile.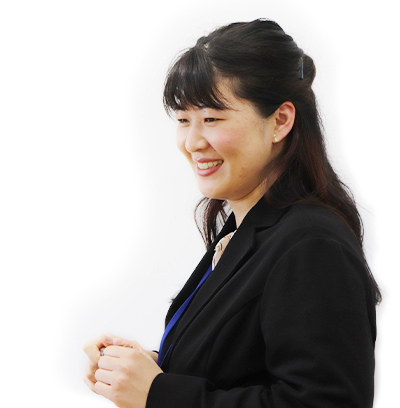 Teacher
Make your dreams come true!What is your purpose of studying abroad in Japan? I think it depends on the person. It will probably be to enter to the next stage of education or get a job. Study abroad is an opportunity not only to study but also to broaden your horizons through living together in the dormitory, part-time job, cultural exchange, and so on.
I will do my best in order to keep you smiling from entrance to graduation. Let's step forward to your dream once again. I am looking forward to meeting you all.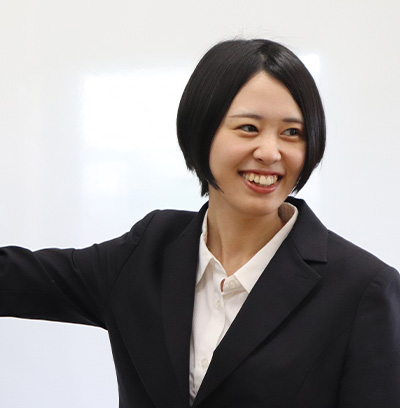 Teacher
Language is the most important elementsLearning a foreign language is not just about studying. Language is an implement, so they have no meaning unless they are used. Please give first priority to the speaking skill and hold the motivation in you.
I have had the experience of studying foreign language. My teacher always said: "When in trouble, in the end, the thing that helps you is only words."
Of course, when you are in trouble, teachers will do their best to support you, but after graduation, it is your language skill that will help you the most.
Open up your future to use the element of words you got at this school!
Office Executive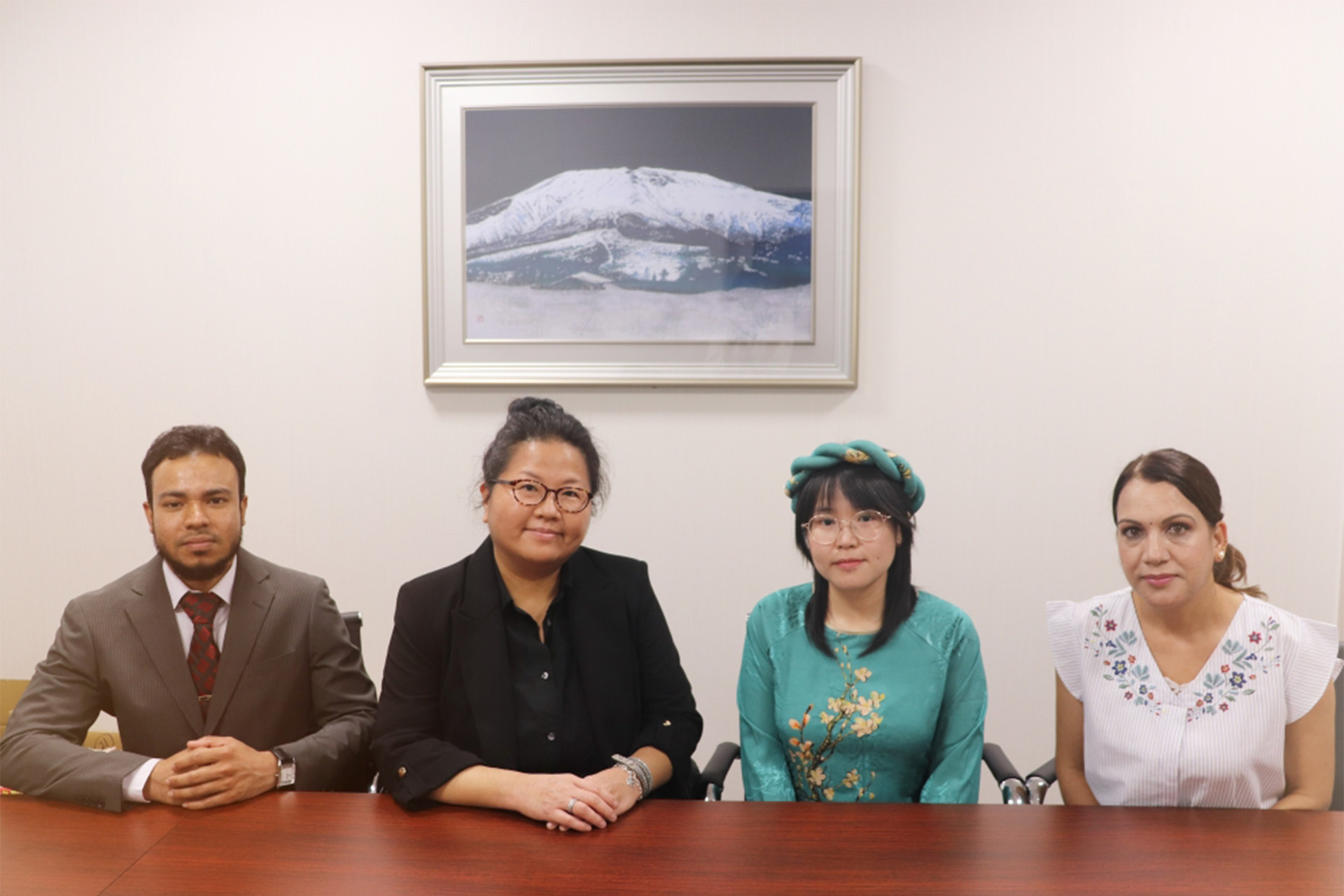 Our staff can speak English, Chinese, Vietnamese, Bengali or Hindi. They will support you when extending your visa, having trouble with dormitories or housing, looking for part-time jobs, getting sick, and so on. If you have any questions, please feel free to talk to us.
Zhang Yinghuan

China

International students have many troubles when they come to Japan, such as they are worried whether I can keep up with my class, make friends, or get a job. I was worried about those troubles too since I was an international student. From my experience, I can say that studying abroad will make you mature. One of my job is to listen to the students' anxiousness and I will advise you that you can feel comfortable joining this school where teachers communicate closely with students, so you can ask anything you are worried about without hesitation. I want to tell more and more students that studying and working in Japan are challenging but rewarding.

NGUYEN THI THU QUYNH

Vietnam

I came to Japan as an international student 7 years ago. As an international student, I spent three and half years and experienced a lot of things. I will never forget everything from my student life, such as facing difficulties of living alone overseas, having fun with teachers and friends at school or workplace, feeling nervous when waiting for the test results. That is why I understand the feelings of an international student, especially students' anxiety. Working at Kobe International Language School makes me really happy to meet and talk with students every day. And I would like to give full support not only Vietnamese students but also students from other countries. As a senior, I will do my best to share my experience and achievement of studying abroad with students and let them feel comfort to study in Japan.

AFROZA SULTANA

Bangladesh

Five years have passed since I came to Japan. When I came to Japan, I didn't speak Japanese at all. So, at first, I started studying Japanese. After completing my education research at university, I started working in Japan. All the memories that I made at Kobe International Language School are full of joys. Moreover, I take pride in this job to be a bridge between Bangladesh and Japan. I've had a lot of experiences since I came to Japan and I would like to tell you two things. First, since you've come to Japan, study Japanese hard. I think that your Japanese will definitely improve if you put all your effort. The second thing is to have a dream. If you have a dream, it will motivate you and make you do your best. I believe you can make your dreams come true. I will kindly and if needed, rigorously support you to improve your life in Japan.
School Facility
Fashionable exterior with lots of greenery
You can pay full concentration on study because there is hygienic restroom, bright and well-ventilated classrooms, large-screen TV monitor, a common room for student relaxation, a silent library with plenty of books, a school infirmary, and the office (staff room) surrounded by the cherry blossoms and greenery.
Appearance of school building

Reception Desk

Class Room

Library

Meeting Room

Common Room

Restroom
Location (School Neighborhood)
Kobe International Language School is located in Nishinomiya city, Hyogo prefecture. It's a scenic area that was developed in the era from Taisho to the beginning of Showa and this lushly green city is also famous as the most luxurious residential area in Kansai. The former residence of the late Mr. Konosuke Matsushita, the founder of Matsushita Electric Industrial Co., Ltd., is situated in Nishinomiya. In Kansai area, where Nishinomiya city is located, there are many famous national universities, such as Kyoto University, Osaka University, Kobe University and more, and private universities, such as Kwansei Gakuin University, Ritsumeikan University, Doshisha University, Kansai University, and more.
The Nishinomiya Shrine is the head shrine, which worships Ebisu, or "The god of wealth", near this school. On January 10th every year, the festival is held at the main hall, which is called the Shinji Fukuotoko Erabi, or "Choosing of the Lucky Man Gate Opening Ritual". As the gates, or "Omote Daimon" open at 6:00 am, the eager visitors who aim to be the first sprint the 230 meters to the main hall. The first three to reach the finish line are crowned "Fukuotoko", or "Lucky man", and they will be awarded by winner certificate.
Furthermore, if you keep walking for a bit more, you can get to many cultural facilities and sport facilities such as Shukugawa Oasis Road, the art museum, libraries, Hometown Collections, Museum, Yacht Harbor, and Tennis Club.
You can access big cities such as Osaka, Umeda, Namba, Kobe or Sannomiya in just 20 minutes. You also find Nishinomiya so convenient as it takes 50 minutes to Nara or Kyoto. And it takes 50 minutes to Kansai International Airport by a shuttle bus, using the highway.