INFO
Kobe International Language School is a Japanese language school that aims to build up talents who can be active and can contribute to all kinds of societies. Our students aim to enter graduate schools, universities, or vocational schools as well as to get a job in a Japanese corporation by way of learning practical Japanese of the all levels from the basic to the advanced level.
We strive to help our students nurture their minds with respectful and compassionate thoughts in addition to deepening their understanding about Japanese culture and customs through their life at school, extra-curricular activities, community works, and so on.
We will lead our students to broaden their horizons and we will support them by providing the best program to let their dreams take flight.
Message from President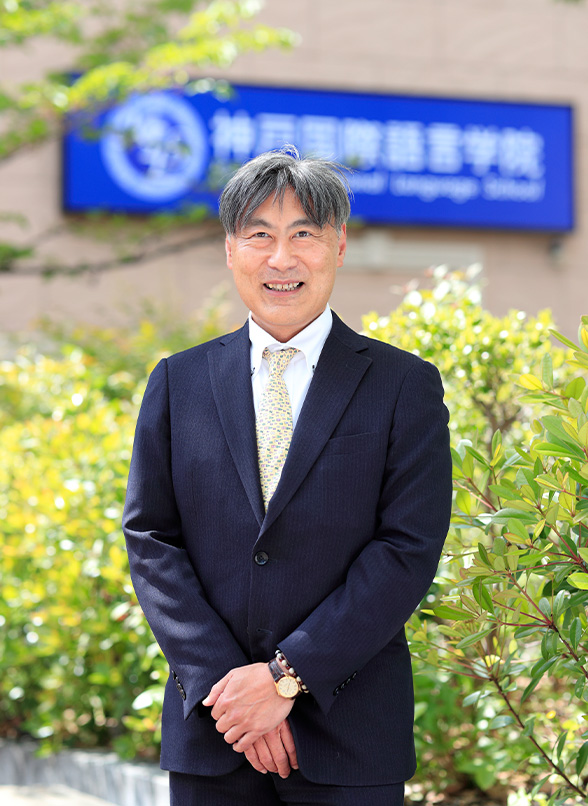 Kazumasa Kinoshita
President
Kobe International Language School opened its doors in 2011 with 2 students from China. But now, we have students from around 10 countries. Our campus is just like a microcosm, where you can hear the students' bright voices. We have staff on campus who speak the native languages of our students and we support our students in all aspects of their lives. We strive to develop an environment for allowing them concentrate on their study. Almost all of our students successfully enter a graduate school, a university, or vocational school or start working at a Japanese company.
Now is the age of information technology, so wherever you are, you have the opportunity to explore the world and learn something new. I think the same is true for language study. However, it is important to experience Japanese culture, history, and customs while studying the Japanese language, is it not? Our school is actively engaging in interactions with the local community through extracurricular activities and other events. This chance will become an unforgettable memory and will be an opportunity that allow for students to deepen their understanding of Japanese society.
Recently, the number of the educational institutions, various institutions, and companies who visit our school have been increasing. As is well known, recently in Japanese society, there has been an increasing interest in hosting international students. Our school will continue to meet the diversifying needs of international students and the local community.
Message from Principal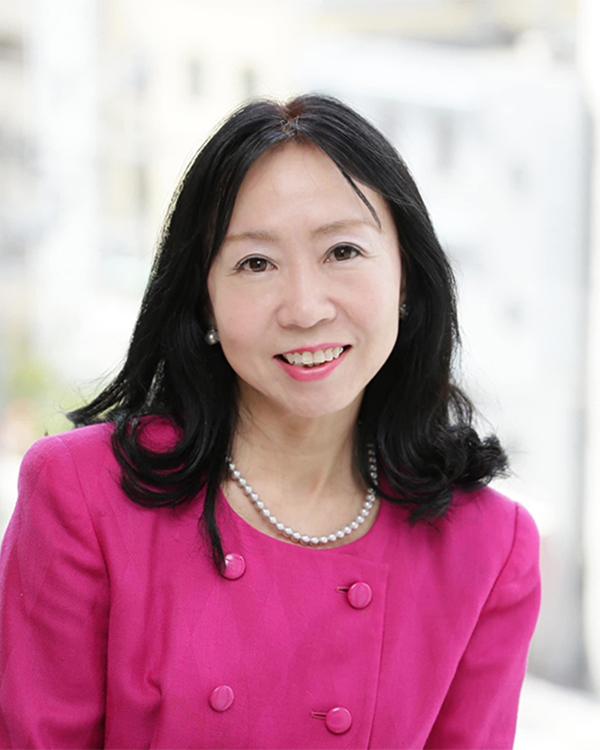 Satomi Yamamoto
Principal
Live a new life abroad. I think it's going to be hard. "Being hard" translates to "大変" in Japanese and the term "大変" is made up of two characters, "大" and "変". In other word, "大変" can mean " a big change" because "大" means "big" and "変" means "change". So, when you are an international student in Japan, you can change a lot. At this school, while learning the Japanese language, you will also better understand the Japanese life, culture and customs which will help you to acquire the basics of living in a multinational society. Through meeting and interacting with different people, you will get to know how to solve problems and can proceed to the next phase of your journey. Students with a clear purpose are well aware what is most important to them. I think you will agree with me, your ways to success are as follows: not to hurry, but to start with the familiar things around you, and to firmly build the foundations while you are studying, researching, or working. I hope, within 5 or 10 years, our students will expand their field of activity around the world and will create a wonderful future.
I wish, "You will find yourself brighter than ever" and your potential can be manifested. I'm looking forward to seeing you in Japan.
School History
March 2011

Founded with 98 capacity at Tateishi-cho, Nishinomiya

April 2011

Osaka Head Office established at Kitashinmachi, Chuo-ku, Osaka

October 2011

Completed the changing procedure of school name and founder name.
Became School Accreditation of the Association for the Promotion of Japanese Language Education
Became School Suitability of the Immigration Service Agency of Japan, Osaka, Kobe branch

September 2014

Increased the number of capacities to 147 students

July 2016

Increased the number of capacities to 177 students

May 2017

Became a membership of the Japan Language School Association (JaLSA)

April 2019

Moved a new school building (Located in Honmachi, Nishinomiya)

January 2020

Became a membership of the Japanese Education Institute's Liaison Association, Hyogo

April 2023

Increased the number of capacities to 260 students
School Overview
Sanmin Kosan Co., Ltd.

Representative

Kazumasa Kinoshita, Representative Director
Kenji Hagihara, Director
Satomi Yamamoto, Director

Capital

95 million yen

Established

1 July, 1986

Businesses

Japanese language school administration, building management

Osaka headquarter

3-4 Kita-shinmachi, Chuo-ku, Osaka 540-0023

Location

6-21 Honmachi, Nishinomiya, Hyogo 662-0914
(School) Tel: +81-798-22-7135 Fax: +81-798-22-2719
(Office) Tel: +81-798-78-2458 Fax: +81-798-78-2459
Skype: kobe-kg.jp

Ministry of Justice Publicly Acknowledged School
Membership of the Japanese Language School Association
Membership of the Japanese Education Institute's Liaison Association, Hyogo
Kinoshita Industrial Co., Ltd.

Representative

Kazumasa Kinoshita, Representative Director and President

Capital

72 million yen

Established

26 February, 1956

Businesses

Pavement construction, general civil engineering-related construction, architectural landscaping, soil improvement work, water supply, temp agency

Head office

3-4 Kita-shinmachi, Chuo-ku, Osaka 540-0023
Tel: +81-6-6946-0078
Fax: +81-6-6946-0503

Kobe Office

2F Shiroyama Denshi Bldg., 1-2-29 Ekimae-dori, Hyogo-ku, Kobe 652-0897
Tel: +81-78-652-6325
Fax: +81-78-652-6327

Sakai Asphalt Concrete Factory

1-139 Ishihara-cho, Higashi-ku, Sakai 599-8102
Tel: +81-72-252-3063
Fax: +81-72-252-3921